Mária Bieliková

Welcome to my homepage

I received Ing. (Master) in 1989 from Slovak University of Technology in Bratislava and PhD. degree in 1995 from the same university. I am full professor at the
Top links
Selected info and activities
Journals
I currently serve as a member of editorial board of
I currently serve or has been serving as a reviewer for the following journals:
Conferences
I currently serve in programme or steering commitee of:
Selected International Conferences/Workshops with proceedings published by recognized publishers:
28th The Web Conference, San Francisco, USA, May 13-17. (ACM Press)
45th International Conference on Current Trends in Theory and Practice of Informatics, Nový Smokovec, Slovakia, January 27-30. (Springer LNCS Series)
16th International Conference on Emerging e-learning Technologies and Applications, Starý Smokovec, The High Tatras, Slovakia, November 15-16. (IEEE CS Press)
24th International Symposium on Methodologies for Intelligent Systems, Limassol, Cyprus, October 29-31. (Springer LNCS Series)
17th International Symposium on Intelligent Data Analysis, Hertegenbosch, Netherland, October 24-26. (Springer LNCS)
12th ACM Conference on Recommender Systems, Vancouver, Canada, October 2-7. (ACM)
19th International Conference on Computer Systems and Technologie, Ruse, Bulgaria, September 13-14. (ACM)
18th International Conference on Artificial Intelligence: Methodology, Systems, Applications, Varna, Bulgaria, September 12-14, 2018. (Springer LNCS Series)
22nd International Conference on Theory and Practice of Digital Libraries, Porto, Portugal, September 10-14. (Springer LNCS Series)
22nd East-European Conference on Advances in Databases and Information Systems, Budapest, Hungary, September 2-5. (Springer LNCS Series)
International IFIP Cross Domain (CD) Conference for Machine Learning & Knowledge Extraction (MAKE), Hamburg, Germany, August 27-30, 2018. (Springer, IFIP)
World Symposium on Digital Intelligence for Systems and Machines, Kosice, Slovakia, August 23-25, 2018. (IEEE)
17th International Conference on Web-based Learning, ChiangMai, Thailand, August 22-24. (LNCS Springer)
29th ACM Conference on Hypertext and Social Media, Baltimore, Maryland, July 9-12. (ACM)
18th IEEE International Conference on Advanced Learning Technologies, Track 2. Adaptive and Personalised Technology-Enhanced Learning, IIT Bombay, India, July 9-13. (IEEE)
26th Conference on User Modelling, Adaptation and Personalization, Singapore, July 8-11. (ACM)
13th International Baltic Conference on Databases and Information Systems, Trakai, Lithuania, July 1-4. (IEEE, Springer)
14th International Conference on Intelligent Tutoring Systems, Montreal, Canada, June 11-15. (Springer)
18th International Conference on Web Engineering, Cáceres, Spain, June 5-8. (Springer LNCS Series)
Other International Conferences/Workshops:
Business Process Managament Education Symposium at BPM 2018, Sydney, Australia, September 10.
8th International Workshop on Personalization Approaches in Learning Environments, UMAP 2018 (ACM), Singapore, July 8-11; AIED 2018, London, UK, June 27-30 (CEUR).
3rd International Workshop on Human Aspects in Adaptive and Personalized Interactive Environments (UMAP 2018), Singapore, July 8-11; AIED 2018, London, UK, June 27-30 (ACM).
International Workshop on Eye Movements in Programming, June 17, Warsaw, Poland.
National/Local Conferences/Workshops:
18th Workshop on Information Technologies - Applications and Theory, Krompachy, Slovakia, September 21-25.
Student Research Conference in Informatics and Information Technologies, Bratislava, Slovakia, April 18.
Annual Conference on Data and Knowledge & Workshop on Intelligent and Knowledge oriented Technologies, Brno, October 11-12.
>>> LIST OF PAST CONFERENCES is available.
PhD Students and Alumni
PhD Students I presently supervise or co-supervise:
| | |
| --- | --- |
| | - 1st year (co-supervised with Jakub Šimko) |
| | - 1st year (co-supervised with Jakub Ševcech) |
| | - 1st year (co-supervised with Michal Kompan) |
| | - 2nd year (co-supervised with Marián Šimko) |
| | - 3rd year (co-supervised with Michal Kompan) |
| | - 3rd year (co-supervised with Marián Šimko) |
| | - 4th year (co-supervised with Jakub Šimko) |
| | - finalizing doctoral dissertation |
PhD Alumni and their current job:
Awards
IT Personality 2016

recognized by IT industry in Slovakia
for exceptional results in internationally recognized research in the field of software and information systems for personalized social web and the involvement of young talents in research (2010)

Professor of the Year

recognized by the Slovak University of Technology in Bratislava in 2006, 2009 and 2017

1st place in E-learning Competition ICETA 2010

category Supporting learning materials - Adaptive LEarning Framework ALEF

Special prize of the Minister of Education, Science, Research and Sport of the Slovak Republic

for the project Adaptive LEarning Framework with remarkable contribution to education

Slovak Academy of Sciences Award for Collaboration with Universities

based on excellent results achieved in the research project Tools for acquisition, organization and maintenance of knowledge in an environment of heterogeneous information resources (2009)

The Head of the Year 2008

special prize in the national competition
The most valuable are awards conferred to my great students in various mostly international competitions.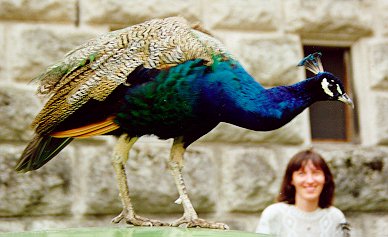 The peacock at the Smolenice Castle (with me at background).
Contact:
Institute of Informatics and Software Engineering - Room 3.04
Faculty of Informatics and Information Technologies
Slovak University of Technology in Bratislava
Ilkovičova 2
842 16 Bratislava 4
SLOVAKIA
Tel: +421 2 210 22 304 alebo +421 2 210 22 204